Concrete processing and finishing
By Canadian Rental Staff
Products
Rental Equipment
Technology is advancing fast in the world of concrete. Here's the latest.
Does the work itself
cratos.com

The MCE400 from Cratos Equipment is a wheelbarrow that does the work for the user. The MCE400 is a 100-percent battery-powered wheelbarrow and can haul up to 880 pounds with the ease of pushing a button. No more tiresome dragging and pushing heavy loads slowly. Customers can remove debris easily for up to eight hours on a single charge. At just 33.5 inches wide, interior demolition becomes a breeze as it fits through most standard sized doors and is safe to use indoors with zero emissions. Weighing only 320 pounds, the wheelbarow can be safely transported via elevator for interior jobs on higher levels. The wheelbarrow's bin comes with the option of a 16-cubic-foot aluminum bin or a 12-cubic-foot polyurethane bin. Customers can work faster, safer and longer without exhaustion with the MCE400 battery-powered wheelbarrow.
---
Better data for better results
converge.io

Converge, a concrete material and operations optimisation company, and DeWalt have teamed to help decarbonise construction through Converge's AI-based platform, ConcreteDNA, powered by data from DeWalt's new wireless concrete sensor, the DeWalt Signal Sensor. ConcreteDNA interprets real-time data from the Signal Sensor allowing users to observe compressive strength gain of concrete and to predict when it will reach critical strength through advanced AI and local weather data. This allows concrete professionals to begin work sooner as users can directly measure hardening rather than relying on estimation. In addition, they can tailor the exact amount of cement needed in the mixture which helps reduce unnecessary carbon emissions. With deep insight into the strength of the material, lower embodied-carbon concrete mixes can be produced without sacrificing performance or safety to meet jobsite deadlines. 
---
Extra user comfort
wackerneuson.com

Wacker Neuson's battery-powered backpack vibrator has been re-designed to reduce the overall weight making it even more comfortable and convenient for the operator. The ACBe backpack concrete vibrator is a portable, cordless backpack concrete vibration system that provides excellent consolidation of thick concrete with and without reinforcing steel.  Because of the portability, the system is ideal for use anywhere as there is no need for additional power while providing a quiet, zero-emission option for indoor and outdoor use. The three-part modular system consists of the backpack with an integrated converter, a removable/replaceable battery and an internal vibrator. The backpack itself was engineered by a leading hiking backpack company that understands the need for ergonomic comfort. It is fully adjustable for varying heights, chest, shoulder and waist sizes. The weight of the new backpack has been reduced by 40 percent and weighs in at only 9.3 pounds. (With the battery inserted the unit weighs under 30 pounds.) The lightweight fabric, padded shoulders and even weight distribution allow for extended working periods.  The vibrator shaft connects to the bottom centre of the backpack that allows for easy left-hand or right-hand operation. The heart of the ACBe backpack vibrator is Wacker Neuson's BP1000 lithium-ion battery, which is the exact same battery that powers the company's zero-emission battery rammers and vibratory plates. The battery is easily inserted into the converter backpack without the need for any special tools, and because there is no cord, the operator has flexibility and mobility to move around the job site. By running on battery power, as opposed to a gasoline engine, the operator is no longer exposed to heat, exhaust fumes and engine noise. 
---
Less fatigue, more work
alleneng.com

Allen has announced the debut of their newest Mechanical Super Pro Rider. The rider model 465 Mechanical Super Pro is a compact eight-foot rider, that comes with electric start, powered by a Kubota engine. The MSP465 comes equipped with a liquid-cooled gasoline engine, a 10-gallon aluminum fuel tank and assisted steering. This machine allows for reduction in operator fatigue and longer run times. This rider produces excellent torque even at high rotor speeds, which makes it excellent for panning or finishing on the job. MSP465 standard features include a 57-horsepower Kubota WG1605 liquid-cooled gasoline engine with a push-to-spray foot pedal and an aluminum 10-gallon tank. The rider comes with push-to-start, assisted manual steering and operates at 170 RPMs.
---
Battery-powered screed
mbw.com

MBW's ScreeDemon is an innovative and ergonomically friendly wet screed. MBW has partnered with Milwaukee Tool to develop its first electric version of the ScreeDemon powered by the M18 RedLithium battery system.  Along with being easy to assemble, it is now very easy to run. The M18 wet screed is quieter than an engine version and includes lights to improve visibility in darker work areas. The zero-emission power supply makes it perfect for indoor work. MBW's clamp system makes assembly and disassembly fast and easy. The sealed exciter requires no maintenance. Hand and arm vibration is 50 to 90 percent less than other screeds.
---
Keeps the forces in the concrete
oztec.com

Epoxy coated rebar presents a particularly troublesome problem. Steel heads act like an electric hammer, striking any rebar or forms they contact, over 10,000 times per minute, with a force from hundreds to over 2,000 pounds per blow. Contact with a steel vibrator head for as little as one second can chip enough coating to subject the steel to deep rust. Oztec's patented high-efficiency RubberHead vibrator head not only meets non-metal head specifications for protecting coated rebar and expensive forms, but exhibits some very special and unique properties. The high efficiency RubberHead urethane-dimpled construction sends strong shock waves off the entire length of the head, with a larger radius of action, producing denser concrete with less voids to patch. Oztec's patented RubberHead protects epoxy-coated rebar and expensive forms. It performs well in low-slump to zero-slump concrete – essential in large pours of very stiff concrete. The head vibrates at 12,000 vibrations per minute and never drops below 10,500 vibrations per minute when lowered deep into low-slump concrete. All Oztec vibrators meet or exceed ACI specification #309. When a smooth vibrator head (round, square or any other shape) is lowered into a relatively stiff concrete batch, the front or nose of the vibrator drills a hole. It pushes away concrete faster than it can return. As a result, shock waves are produced mostly from the vibrator's front end. The RubberHead has a large number of openings which allow wet concrete to cool the inner shell. These openings act like suction cups, which keeps the concrete in contact with the entire length of the vibrator head. 
---
Performance without hassles
milwaukeetool.com

The MX Fuel vibratory screed from Milwaukee provides consistent starts and reliable pours with the power to pull up to 16-foot bars with no gas headaches and two hours of runtime per charge with a 12-foot bar. The Powerstate Brushless Motor delivers the power to pull 16-foot bar at 9,000 vibrations per minute with a variable speed trigger, giving users maximum control in stiff and wet concrete. The MX Fuel Redlithium battery pack provides instant power with no gas headaches and requires no regular maintenance, produces less noise and has zero emissions for a safer workspace, indoors or outdoors. The push-button start delivers instant power, eliminating the repetitive motions of a pull start and reducing downtime, allowing workers to get jobs done faster without sacrificing power and runtime. The battery-powered vibratory screed is compatible with all MX Fuel Redlithium batteries. The screed can accept bars up to 16 feet long without sacrificing power and can run two motors on one bar for increased mobility. Redlink Plus Intelligence ensures optimal performance and provides overload protection to protect the machine and battery during the toughest applications. The screed is One-Key compatible, allowing stores to track, manage and secure the equipment from a mobile device or computer using Milwaukee's huge Bluetooth community tracking network. If the screed is ever lost or stolen, stores or users can prevent tampering with remote lockout capability.
---
Proven for decades
bartellglobal.com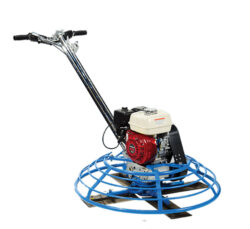 The BC436 walk-behind trowell from Bartell Global is a 36-inch-diameter power trowel precision-balanced for smooth, easy operation. It comes with a one-year warranty. The BC436 is designed to be a versatile and economical work-horse that is perfect for any concrete finisher. Featuring superior balance and quality, the BC436 has been proven by contractors for decades. Bartell's long-lasting consumables, wide range of purchasing options and enhanced balance and quality make the BC436 economical. The BC436 handle is precision-balanced to keep downward pressure consistent and vibrations minimal and chrome-plated for easy cleaning. A cast iron spider assembly with precisely machined arms delivers tight tolerances to eliminate flexing for a more consistent finish. The trowell includes finishing blades with combo blades also available. There is an optional hoist hook for safe and easy transport. A centrifugal safety switch automatically kills the engine if the operator loses control of the machine. A low-emissions muffler is available for safer use indoors.
Perfect for tight spaces
nationalequipmentdirect.com

Designed for small jobs and tough-to-reach spaces, the Helix grinder from National Flooring Equipment is a 16-inch planetary grinder that creates the perfect profile for new coatings. This easy-to-operate machine has a built-in edge grinder, dual-speed operation, an adjustable handle and a floating dust skirt for maximum efficiency. Featuring a 17.5-inch width with a 16-inch disk, the Helix produces a 128-pound grinding pressure with 304/171 RPMs in the 120-volt version and 291/164 RPMs in the 230-volt version. Included accessories are a magnetic tooling holder, a floating dust skirt, the Helix grind and scrape plate and a one-year warranty on parts and labour.
---
Print this page