Landscaping showcase: March 2022
By Canadian Rental Staff
Features
Supplier stories
2022
canada
landscaping
rental
showcase
Help your customers get their yards in order this spring with these outstanding landscaping products.
Up and over
jlg.com

JLG has expanded its SkyTrak telehandler line into the 3K Class with the 3013 model. The SkyTrak 3013 ultra-compact telehandler was purpose-built for use in small spaces requiring up-and-over reach such as light construction, agriculture, landscape and hardscape work. This 3,000-pound-class telehandler is well-suited for loading and unloading pallets from flatbed trucks, as well as lifting and placing materials at heights up to 13 feet. The 3013 telehandler weighs 5,300 pounds with a load capacity of 2,700 pounds. Its compact four-by-six-by-eight-foot-nine-inch footprint and rear pivot steer make it highly manoeuverable, while its light weight allows for transport by a standard pickup truck equipped with a tow-behind trailer. Additionally, the model features four-wheel drive, two-wheel rear steer and a hydrostatic drive system, all supported by a Kubota V-1505 diesel, 24.8-horsepower engine. The SkyTrak 3013 is built to be the best solution for handling and transporting materials in small spaces. In addition to its compact footprint, the 3013 comes standard with a universal quick coupler, allowing the operator to change attachments and implements right from the cab of the machine and share attachments purchased for use on other equipment in a contractors' fleet, such as skid steer loaders. When compared to skid steers, the new ultracompact machine will offer better reach into truck beds and trailers and over obstacles, in addition to better lift height for single story houses and dump trucks. The cab design is spacious, and the placement of the boom gives operators a 360-degree view.
---
Universal attachments
barretomfg.com

The 825TKL mini track loader from Barreto features an innovative cab-over design, allowing exceptional access to key components, cutting routine maintenance time and improving your bottom line. The articulating rollers on the track system tackle uneven terrain and absorb impact, providing stability and comfort to the operator. The universal attachment plate on the TKL allows for the use of any industry-standard quick-change attachment, providing value by eliminating the unnecessary cost of brand-specific  attachments.  The TKL experience incorporates an electronic display panel that is clear and easy to understand. Featuring a unique high/medium/low speed selection, the operator can adjust the track drive speed of the TKL to the task at hand, benefiting both seasoned and novice operators. There are a variety of safety features on the TKL, including the operator presence switch that senses when the operator is no longer standing on the ride platform. The TKL is also equipped with innovative tip-over protection, utilizing the machine's incline sensor to shut off the fuel supply and lock the TKL in the event of a rollover situation. A four-digit safety code is required to restart the TKL, preventing  potential engine damage and giving the owner the opportunity to inspect and secure the machine.
---
Must-have
bannermansportsturfmagic.com

The Bannerman B-MTD-2012 Mini Topper is designed to apply top dressing evenly on small- to medium-sized high wear turf grass areas or residential lawns. This walk-behind machine has a 24-inch spread width and 68 litre capacity. The front brush provides a quick adjustment for material spread depth. It's a must-have item for spreading organic topdressing, peat moss and loam. 
---
Indoor-safe
greenworkstools.ca

The all-new GreenWorks 82PC12 12-inch brushless power cutter features a precision aiming LED to give confidence with every cut. It has an IPX4 rating and uses a 12-inch saw blade. A real commercial electric stone saw, it provides a high degree of versatility allowing for use indoors or in enclosed areas with harmful exhaust fumes or fuel mixing. The oversized trigger makes it easier to operate wearing gloves. The 82PC12 delivers a 40-minute constant run time on a four-amp battery. 
---
Heavy-duty tub
toro.com

Built on the same frame as the popular MB TX 2500 tracked Mud Buggy, the new Toro Swivel Mud Buggy features a redesigned tub that enables it to swivel 180 degrees, allowing users to dump materials anywhere between the 180-degree angle. For enhanced durability, the Swivel Mud Buggy also offers a thicker 3/8-inch polyethylene tub material. With the increased thickness of the tub, users can tackle more jobs with confidence and ease, regardless of the material being transported, including sand, rock, mulch or even cement. In addition to the swivel feature and the redesigned tub, the swivel switch travels with the right-hand control handle, allowing operators to safely and efficiently operate the machine while simultaneously swiveling the tub. The Toro Swivel Mud Buggy can carry up to 2,500 pounds of material, and the 25-horsepower Kohler Confidant engine delivers exceptional power to handle even the most challenging material handling applications. Additionally, the Swivel Mud Buggy can reach transport speeds of up to six miles per hour in forward and three miles per hour in reverse to efficiently transport material around the jobsite.  
---
Faster cleanup
littlewonder.com

Clear litter and debris faster with the Little Wonder Pro Vac SI. This professional debris vacuum is powered by a Honda engine. It's equipped with a five-blade serrated steel impellor with 5:1 reduction ratio for superior suction and shredding capabilities in a compact footprint. The 40-gallon angled debris bag has an angled poly bottom to reduce wear and tear. Easy nozzle-height adjustment happens right from the operator's handle. An optional hose kit is available for cleaning out flower beds and hard-to-reach areas. It seats securely in a specially-contoured pocket that blocks air flow when not in use. 
---
Bore under pavement
littlebeaver.com

Little Beaver is making it easier than ever to create clean, horizontal bores with its horizontal boring kits. The two types of horizontal boring attachments turn versatile Little Beaver mechanical earth drills into precise, timesaving horizontal boring machines that can be used for a variety of applications including conduit, pipe and irrigation installments. Little Beaver's horizontal boring kits are easier than physically forcing a pipe through soil by hand, and more cost effective than purchasing or renting expensive hydraulic and pneumatic moles, especially for those who already have a Little Beaver mechanical earth drill.  Coupled with a Little Beaver drill, the sidewalk boring kit can efficiently create small bores up to five feet long. The kit includes a five-foot auger with a three-inch diameter bit, a horizontal drill key, and a five-foot extension with a universal wiggle joint. The earth drill provides the torque necessary to drill smoothly through the soil from one side of the sidewalk to the other. The driveway boring kit is ideal for jobs that require horizontal boring to lengths up to 50 feet, such as those under driveways and streets. The kit includes a choice of a two-, three- or four-inch water drill bit, plus a swivel adapter, the swivel assembly and horizontal drill key. The water swivel assembly connects between the swivel adapter on the drill handle and the 3/4-inch water pipe. A garden hose attaches to the swivel adapter and the water drill bit is screwed on the leading end of the water pipe. As water runs from the garden hose or pump to the driveway boring kit, it flushes the cuttings from the hole to make a complete bore parallel to the pavement above. 
---
Less vibration
classenturfcare.com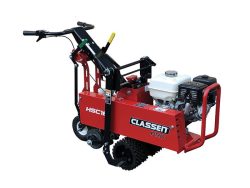 This proven hydrostatic drive sod cutter has a 4.7 mile-per-hour transport speed. Its cutting speed has two forward speeds and a reverse for a comfortable pace and an integrated throttle/clutch control on the handle for simple operation. It's advanced vibration dampening system and cam provides enhanced operator comfort. The integrated rear swivel wheel locks in place for straight line cutting. It's easy to operate thanks to user-friendly controls and a quick-view how-to panel. 
---
Superior rotor
baumalight.com

The heart of the Baumalight 900 Series brush mulcher is the design of the rotor, available in either 60- or 72-inch sizes. The 900 Series rotor teeth are available in either double-carbide tipped ripper or single-blade planer styles. The carbide ripper tooth is a good general use tooth for mulching with lots of ground contact. If there are not many stones, then the planer tooth is a little bit more efficient. A skidsteer brush mulcher is probably the most comfortable way for vegetation management, as your work is directly in front of you. Also equipped with a push bar, directional felling hook and optional two-speed motor, this heavy duty brush mulcher is sure to impress.
---
Three configurations
brownproducts.com

The multi-use Redefiner 450HA allows rental stores to offer their clients three configurations: a bed redefiner; the WireMaster model to install invisible dog fencing; or the standard sidewalk edger. The Redefiner is powered by a Honda GX160 engine and delivers bed-redefining productivity of up to 60 feet per minute or dog fence installation up to 25 feet per minute. This commercial unit is light and easy to transport with fold-down handles as well as manoeuverable, making it ideal for home owners and contractors alike.  
---
For tough hardscape jobs
echo.ca

The Echo CSG-7410 14-inch cut-off saw allows customers to build their dream hardscapes. It offer high cutting torque, one of the best air cleaning systems and professional features, giving contractors more power and durability for those tough hardscape jobs. Powered by a 73.5-cubic centimetre two-stroke professional-grade engine, the CSG-7410's high torque gives users greater ability to cut through masonry blocks or concrete without being bogged down. The patented four-stage air cleaner system protects the engine for longer life. Operators can achieve the perfect cut even close to buildings and obstacles with the CSG-7410's reversible cutting arm, featuring a standard position for normal cutting and a reversed (outside mount) position. Combine the CSG-7410 with Echo's new CWT-7410 cut-off saw cart for even more flexibility when cutting expansion cuts, curbs or any application where a wheeled concrete saw is necessary. The CSG-7410 is packed with professional features and comes with a one-year warranty. 
---
Easy on the back
ryanturf.com

The ZTS stand-on aerator from Ryan is designed to be groundbreaking, not back-breaking. This stand-on zero-turn aerator has automatic chain tensioning on the main drive chains to ensure proper tension is maintained during operation. The aeration depth control device provides constant depth control up to five inches. A shock-absorbing platform and convenient thumb controls make operation easy. The ZTS can cover two-and-a-quarter acres per hour at ground speeds up to seven miles per hour. It's available with an optional, electric, seed and fertilizer spreader kit and an LED light.  
---
Print this page