JLG debuts 53-foot scissor lift
By JLG
Products
March 12, 2015 - JLG Industries, Inc., an Oshkosh Corporation company and a leading global manufacturer of aerial work platforms and telescopic material handlers, launched its 53-foot rough-terrain scissor lift at the 2015 Rental Show in New Orleans.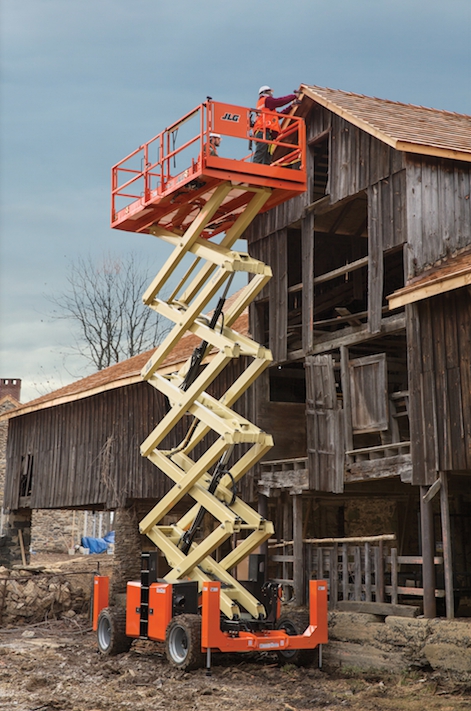 JLG's 5394RT is a high-capacity scissor lift that lets operators place more personnel, tools and materials in the platform for more productive shifts.
The JLG 5394RT lift has steel hoods for toughness and auto-leveling outriggers for rapid set up. It features a standard four-foot multi-position roll out platform extension that is extremely smooth and easy to use. For even more space, customers can add an optional four-foot platform extension.
"The JLG 5394RT gives users the big-job reach they need and the serviceability they want," said Paul Kreutzwiser, JLG Industries' global product director for scissors and vertical lifts. "The engine compartment offers easy access to all service points and a swing out tray for more serious work. The tilt-down modular ladders are easily lowered or removed for even better component access."
This machine offers excellent gradeability and is well suited to commercial construction, steel erection, paneling installation, and stadium and convention center construction. It should also find use for on-location shooting for TV and movie productions, as well as sporting events.
For more information
www.jlg.com/en/5394RT-Scissor-Lift-ARA-2015
---
Print this page