Case unveils new CX30C mini excavator
By Case
Products
October 25, 2017 - CASE Construction Equipment introduces the CX30C to its C Series line of mini excavators.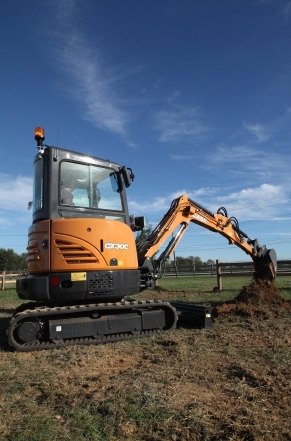 With an operating weight of 6,020-pounds and a 24.8 horsepower Tier 4 Final engine, the CX30C boasts a bucket digging force of 4,520 pounds of force.
This new offering expands the CASE mini excavator lineup to its broadest range of sizes ever, and provides a more comprehensive and feature-driven compact excavator solution to the landscaping, construction, utility and rental markets.
Each new C Series model features a variety of standard features designed to improve productivity and performance. The new machines feature a zero tail swing, short-radius or conventional design, adjustable boom offset for improved maneuverability in congested areas and an auto-shift travel system for operator convenience in varying terrain. An auxiliary hydraulic system with standard proportional controls, shut-off valve and easy-to-select joystick control patterns offer increased productivity, and a spacious and comfortable operator environment with excellent visibility, ergonomic controls, adjustable seating and line-of-sight digital displays minimizes operator fatigue.
Easy transportation
The CX30C is a versatile machine — powerful enough for tough jobs, but nimble enough to access more confined areas. In addition to that, like all C Series models — with the exception of the CX57C and CX60C — it can be towed with a pickup truck, without the need for a CDL (local and state regulations may apply).
Standard features
Standard proportional controls provide precision control of all attachments with the ease-of-thumb control, while a standard auxiliary flow diverter valve allows the operator to easily switch between single and bi-directional flow for use with a variety of attachments. An easy-to-use pattern selector also comes standard, allowing operators to choose their control pattern preference for optimum productivity.
A standard Auto-Shift travel system provides operator comfort and convenience by securing travel speed and torque as ground conditions change. All C Series mini excavators also feature standard auxiliary hydraulics for easy thumb and attachment setup, as well as standard boom and blade guarding.
Operator comfort
The C Series mini excavators provide a spacious, stress-free operator environment, and feature excellent all-around visibility, ergonomic controls, adjustable seating and line-of-sight digital displays for improved operator comfort.
Easy maintenance
All models feature easy-to-open panels for easy maintenance/repair, as well as grouped ground-level service checkpoints for easy and convenient daily maintenance. The C Series mini excavators also feature spacious, wide-opening compartments for excellent access to the engine, control valves and radiator.
For more information on the CX30C and the entire lineup of CASE C Series excavators, visit: www.CaseCE.com.
---
Print this page