Compaction Showcase – June 2019
By Canadian Rental Staff
Products
technology
No fleet is complete without solid compaction equipment. Here's the latest from top manufacturers.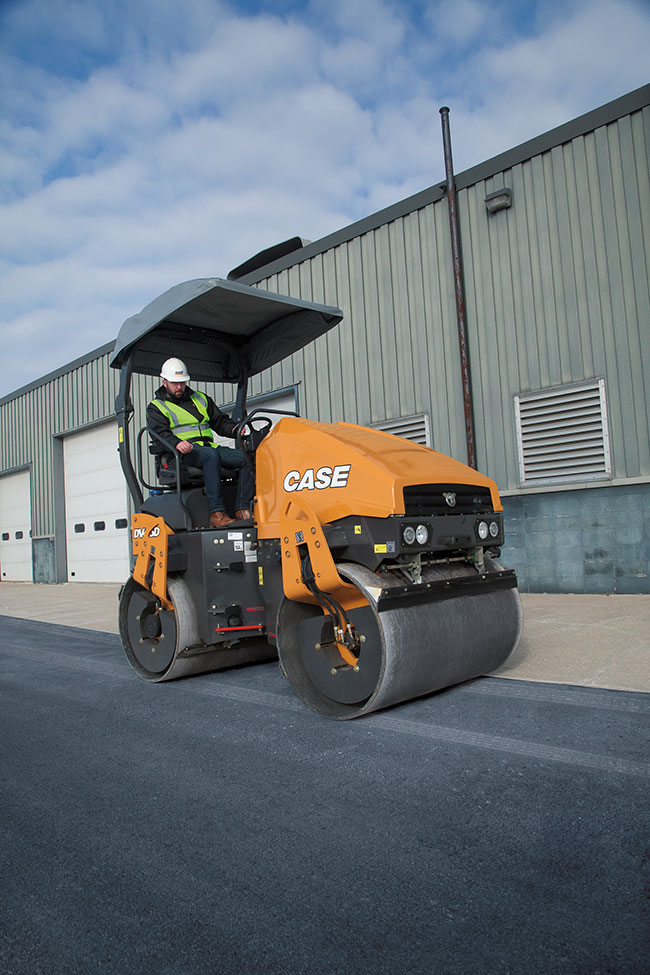 New this year
rentquip.com
In 2019, Rentquip launched the Patron brand of compaction equipment which consists of small forward plates for both soil and asphalt, hydraulic reversible plates and rammers. All machines are built in Europe by an industry-leading manufacturer and have been proven on jobsites across the country in the harshest of conditions. The FP series of forward plates feature maintenance-free eccentrics and easily removeable optional water kits. Offered in three different sizes ranging from 14- to 20-inch widths, all FP machines are powered by Honda engines. Patron reversible RP plate compactors are powered by either Honda or Hatz engines and are offered in five different sizes ranging from 355 to 1,099 pounds. All machines are capable of producing outstanding compaction of medium to deep granular soils with excellent ergonomics and a service-friendly design. The TA series rammers are extremely well-balanced and impactful machines offering excellent compaction of granular and cohesive soils. Powered by the latest Honda GXR120 engine (built specifically for rammers), these units are ideal for use in trenches or other narrow spaces. Rentquip stocks all models in all three warehouses across the country and backs all equipment with the same industry-leading service levels it has provided for many years.
---
Batteries included
ca.wackerneuson.com
Wacker Neuson has introduced its first battery-powered single-direction vibratory plate offering zero-emission compaction. The AP1850e and AP1840e series offer a new solution for contractors and rental centres looking for a cordless, emission-free plate compactor for a variety of applications. These plates are ideally suited for use in new commercial interior or indoor renovation projects, poorly ventilated areas such as trenches and tunnels and projects with strict emission and noise guidelines, as well as traditional soil and asphalt compaction applications. The new AP series battery-powered plates are offered with a 19.7-inch operating width (AP1850e) or 15.8-inch operating width (AP1840e). The plates are available with a water tank and sprinkling set for asphalt applications (AP1850we/AP1840we). The plates are simple to operate with an easy, push-button start and charging indicator light on the battery. Wacker Neuson's battery-powered vibratory plates are single-direction plates without a V-belt. The maintenance-free electric motor is mounted directly on the baseplate, which requires fewer wear parts and reduces service time, contributing to the low total cost of ownership. Wacker Neuson developed the battery-powered compaction equipment platform as a modular concept. The battery and charger used for the new AP series plates are the same as those used for the recently introduced AS50e battery rammer. This increases flexibility and economic efficiency as customers can use the same battery system in the rammer and any of the four new AP1850e and AP1840e plate models. Under typical working conditions, one battery charge can last a standard working day. Should the battery need to be changed, it can be easily removed without tools and replaced with a charged battery in a few simple steps. The battery system has been specially designed to withstand tough construction site conditions. The BP1000 lithium-ion battery system provides constant power output over the entire discharge phase, providing full compaction performance from the first to last minute of work. The battery management system protects against overcharging and provides long service life with active cooling during operation.
---
Double drum or combination
casece.com
Case Construction Equipment has introduced the latest additions to the DV series of vibratory rollers. With models available in both double drum and combination (front drum with rear pneumatic tires) configurations, these rollers are powerful, easy to transport and nimble enough to work in a variety of residential and commercial construction applications where the operator may encounter tight quarters, curbs, structures and other obstacles. Designed with a high curb clearance, no overhangs and drum widths of 51.2 (DV36D, DV45CD) and 54.3 (DV45D) inches, these new roller models are ideal for walkways, residential driveways, bike paths, tennis courts, parking lots and other small- to mid-size compaction applications. The drums can be offset to further improve accessibility and to improve performance during turns. Visibility is improved with excellent sight lines and an adjustable work station that allows the operator to get the best vantage point down to the drums. The new models include the DV36D asphalt roller (43.5 horsepower; 8,290 pounds), the DV45D asphalt roller (43.5 horsepower; 10,340 pounds) and the DV45CD combination roller (43.5 horsepower; 9,520 pounds). The DV series combines compact size, excellent manoeuvrability and visibility with many of the same features found in larger compaction machines. A 43.5-horsepower Tier 4 Final engine delivers high centrifugal forces and frequencies at lower RPM, making the machine more fuel efficient, while selectable dual frequencies (2,700/3,420 VPM) further improve productivity and allows operators to dial the machine in to meet the compaction needs of the job.
---
Protected engine
toro.com
Toro offers three models of heavy-duty rammers to handle a variety of light- to mid-duty compaction applications. All models are equipped with a high-impact polyethelyne shoe with a steel-reinforced base plate to handle challenging terrain, while the heavy-duty rubber shock mounts cushion vibration to the operator for greater comfort. Additionally, Toro rammers feature a wrap-around handle and side shield that protects the engine and other key components from damage on the jobsite. A see-through polyethylene fuel tank allows the operator to check fuel levels with ease. The Toro rammer line consists of the VR-2650 (Honda GX100 engine, 2,650 pounds impact), VR- 3100 (GX100, 3,100 pounds) and VR-3500 (GX120 engine, 3,500 pounds).
---
Improved control
doosanportablepower.com
Doosan Portable Power offers the BX-60, part of the BX-Series of single direction, vibratory plate compactors for the compaction of granular soils, crushed aggregates, and hot mix asphalt (HMA) on small- to large-sized open jobsites. Key features of the BX-60 include a compact vibratory plate design that offers great manoeuverability on the jobsite, compaction in confined areas and fold-over handles that provide ease of storage. The compactor also has a high centrifugal force and the only handle-mounted ratcheting throttle designed for improved control around jobsite obstacles. The BX-60 has an operating weight of 182 pounds and delivers a centrifugal force of 3,400 pounds and a vibration frequency of 5,600 vibrations per minute. It travels at a maximum speed of 82 feet per minute, with an area capacity covering 6,943 square-feet per hour. The compaction depth of the BX-60 is recommended to 12 inches. Powered by a rugged Honda four-cycle engine at 3,600 revolutions per minute, the BX-60 is engineered with recoil start for years of dependable operation. The BX-60 compactor is also fitted with standard vibration-reducing, padded grip handles that are fully adjustable to maximize operator comfort and transport convenience.
---
Remote control
bomag.com
The radio-remote controlled Bomag BMP 8500 compactor boasts multiple exclusive design features to advance safe, efficient and quality compaction of base preparation, footing, foundation, sewer and trench backfilling applications. Bomag's exclusive BOSS (Bomag Operator Safety System) feature automatically halts machine travel if it moves to within close proximity of the operator, advancing operator safety. The compactor comes ready-equipped to deliver intelligent vibration control through the available Bomag-patented Economizer compaction measuring system. Integrated into the BMP 8500's hood for easy visibility and protection, Economizer automatically measures compaction progress to efficiently optimize soil compaction. This exclusive Bomag feature prevents soil over-compaction and helps to identify weak spots in the material, improving compaction quality. Contractors can realize up to 25 per cent time savings and improved fuel efficiency with this intelligent vibration feature. Built with maintenance-free hydrostatic centre-point articulation to increase manoeuverability at the jobsite, the BMP 8500's narrow frame profile enables this multipurpose compactor to fit inside trenches as narrow as 24 inches wide. Offering drum width changes within minutes, the compactor comes standard with 24- and 33.5-inch widths to increase flexibility. Standard padfoot drum segments with two scrapers per drum offer quick compaction of cohesive soils and clays, while optional smooth drums increase on-site versatility by compacting gravel and sand materials. Featuring front and rear drum vibration, the BMP 8500 multipurpose compactor's fully enclosed exciter housing prevents water and debris infiltration, significantly improving system reliability. Two vibration amplitudes of 0.022- and 0.044-inches allow the operator to tailor compaction force to lift thickness. With its 2,520 VPM vibration frequency, the 3,516-pound BMP 8500 generates 16,000 pounds of centrifugal force in high amplitude and 8,000 pounds in low amplitude: ideal when compacting nearby structures sensitive to compaction forces. Powered by a 19.4-horsepower Tier 4 Final diesel engine, the BMP 8500 features lockable engine hoods that swing up and out of the way, offering unimpeded access to the engine and components for efficient maintenance. The machine's easy-servicing concept includes a diagnostic module with fault code reporting to quickly troubleshoot issues in the field, plus no grease points on the compactor to shorten daily maintenance. Bomag's 3-2-1 warranty coverage for the BMP 8500 delivers peace-of-mind operation by backing the exciter gear, pump and motor for three years, the engine for two years and the entire machine with full warranty for one year.
---
Superior water control
husqvarna.com
The Husqvarna LF 75 LAT forward plate compactor is used to compact soil and asphalt for repair jobs and maintenance work, such as driveways, pathways and parking lots. When compacting asphalt, it is important to use water. The LF 75 LAT features a removable water tank with an oversized, secure cap to make refills fast, easy and less frequent.
Water consumption is optimized with an easy-to-reach flow adjustment valve. The water flows using a unique system that eliminates the need for piping, which could get clogged or broken. Additional features and benefits include an exclusive vibration-dampening handle allows operators to keep working with less fatigue; a plate design that does not leave marks on the asphalt; a maintenance-free water system that prevents asphalt from sticking to the plate and a 13-liter, corrosion-free water tank that is very easy to hook on and off for speedy refilling.
---
Print this page