A Golden Era
By Adam Snook
Features
Profiles
cooper
dougherty
SMS
Cooper Rentals continues to grow in its 50th year in business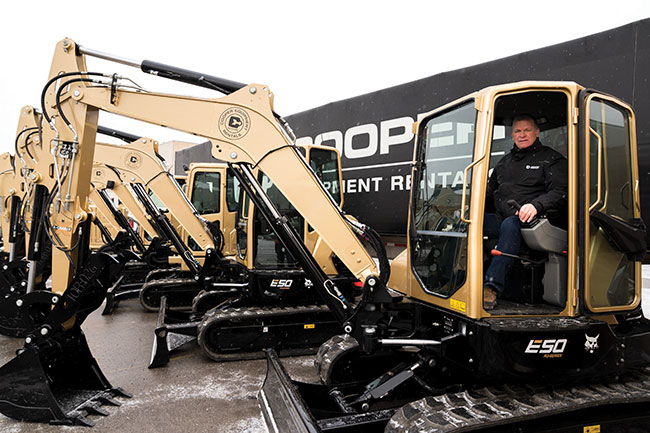 Cooper Equipment Rentals is a homegrown Canadian success story.
From humble beginnings 50 years ago in a small shed in Markham, Ont., Cooper Equipment Rentals now boasts over 55 branches across Canada.
The story for this company started with a trained draftsman named Gordon Cooper, who started his construction career working on a project at the Malton Airport, now known as Toronto Pearson International Airport. Gordon was working for a large construction company where he got his first understanding of the challenges that contractors faced on jobsites every day. This early understanding of the inner working of a construction jobsite led to a successful career as a salesman supplying materials and equipment to projects all over Ontario. Eventually Gord found his way into the rental industry working for a large corporate equipment supplier. While Gord loved being able to help solve customers problems on site he found himself constantly at odds with his employers corporate bureaucracy and its inability to put the customers needs first.
"My dad worked in that environment and struggled with the corporate bureaucracy where it felt like you were working for the corporation and not the customer," recalls Darryl Cooper, Gordon's son and current President and COO of Cooper Equipment Rentals. "My dad was a born salesman and he really just wanted to serve customers and give them the best equipment rental service he could. After fighting his corporate superior for years, he ended up starting G. Cooper Equipment Rentals on a very small budget – a pickup truck and a card table in a borrowed facility in 1972."
Initially the business revenue was made up of about 50% rental revenue and 50% from sales of equipment lines that Cooper Equipment was the sole distributor for.
"He imported equipment from France like Sovemat rollers and Maco Meudon compressors and put some in our rental fleet and would sell the others," Darryl says.
Gordon Cooper started G. Cooper Equipment Rentals alongside a business partner, and over the next 31 years under Gordon's leadership, the company slowly expanded.
In 1973, the company moved into its own building with two acres of yard space on the same street, and four years later the two men opened up a second branch in Mississauga. Gordon Cooper bought out his partner in 1979 and became sole owner of G. Cooper Equipment.  The buyout of his partner constrained capital, so there really wasn't a tremendous amount of growth within the company for some time," Darryl explains. "That really shaped my Dad's philosophy around debt and leverage in the late 80's and early 90's. He had interest rates in the 18- to 20-per-cent range, so all those things shaped the thinking of the business back then. People don't remember interest rates like that these days. In a business where capital is king, it was a real difficult time for the business."
Despite challenging times, Gordon did expand the company into Georgetown, Ont. (1982) and Rexdale, Ont. (1999). In 2003, Gordon retired from his position as president and passed the torch to his son, Darryl.
"I got started as a 12-year-old kid working in the yard. One of the first jobs I had was taking the waste oil from the machines and using it to keep the dust down… those were different times," Darryl recalls, adding that he spent his summers through high school continuing to work in the yard. "At the end of high school I didn't know what I wanted to do, so I started working for a year or two for Cooper Equipment in different operations roles, and finally decided I wanted to pursue a business degree and went back to college and did that. Afterwards, I came back to Cooper Equipment but started to get more into a sales and customer service role, and started to build some industry connections. That was my entry into the business."
In 2003, along with two minority shareholders Darryl bought out his father who had decided to retire. From 2003 to 2009, Darryl and his partners grew the business to roughly triple in size.
"We reached an inflection point where I really felt like I wanted to grow the business further, but wasn't sure which way to take the business from there," Darryl says.
This is when Darryl partnered with Doug Dougherty, CEO of Cooper Equipment Rentals, and the company began an aggressive expansion across the country.
Dougherty was well-versed in the equipment rental business, growing up in the family business under Ray-Gordon Equipment. His father was one of the principles of the business and became 100 per cent owner of the business. Dougherty ended up taking over the family business and eventually selling it to United Rentals in 1998 After a successful career working in various senior level positions at United Doug felt it was time to come back to Toronto where he could be closer to family and friends.
" In 2009 I was back in Toronto and looking to get back into the industry. I attended an industry tradeshow where Darryl and I crossed paths. We had known each other as competitors and had always admired each other's operations. Over numerous discussions we realized that we shared similar values and complimentary skills and so in early 2010 we became equal partners in Cooper Equipment"" Dougherty recalls.
Darryl and Dougherty underwent an aggressive expansion of the business over the next decade.
"We focused on small and medium-sized contractors, primarily for those who worked in the dirt and on heavy civil projects like roads, sewers, bridges and other infrastructure projects," Dougherty says. "As we grew we found it increasingly difficult to finance our growth and so that's when we started a process to find a strategic financial partner."
In 2013, the company found its financial partner in SeaFort Capital, which gave Cooper Equipment Rentals access to the kind of capital they needed to sustain long-term growth. That year, the company opened its fourth location in York Region and purchased City Rentals  located in Scarborough, Ont. One year later, Cooper Equipment Rentals purchased Albion Rental and expanded into Bolton, Ont.
In 2015, Cooper Equipment Rentals made a major acquisition purchasing SMS Rents, which expanded its number of branches in Ontario to 22 and began expansion into the Quebec market.
"That really transformed the business. SMS was about double our size and twice the number of people we had at the time," Dougherty says. "That gave us that critical mass to continue our growth. Since then, we've continued to grow across Canada."
The company launched its Cooper Trench Safety division in 2017 and continued to expand its national footprint that year, acquiring 4-Way Equipment Rentals to expand its operations into Western Canada, and then purchasing Alberta Lift and Equipment Rentals to expand into Calgary and Lethbridge, Alta. If that wasn't enough action for one year, the company also opened an additional rental location in West Edmonton to grow to four locations across Alberta.
In 2018, the company acquired Modern Industrial Rentals allowing for expansion into Medicine Hat, Alta. and a second branch in Calgary.
The following year, Cooper Equipment Rentals launched its Pump Solutions division before acquiring two more companies – Star Rentals in the Metro Vancouver Area with locations in White Rock, Surrey, Langley, Abbotsford and Burnaby, B.C.; and Prime Rentals which added two more branches in Alberta (Lethbridge and Taber).
The company expanded into Atlantic Canada in 2020, acquiring two Herc Rentals Atlantic branches located in Saint John, N.B. and Dartmouth, N.S.
This past year Cooper Equipment Rentals brought two more companies into its fold, acquiring B.C.-based EZE Rent-It Centre and its three branches  located in Chilliwack, Abbotsford and Aldergrove; and Stayner Rental Limited to expand further into Southern Ontario. A Work Zone Safety Division supplying perimeter fencing and slab edge protection was also started up.
"We're continuing to look for opportunities to increase our footprint and expand our specialty operations," Dougherty says.
Changing times
When asked about what the biggest challenges have been over the past 50 years, Darryl says the consolidation of the industry has been a big one.
"I think in the long-run it's worked out in our favour. It forced us to change and adapt. I think it's raised the game of the entire industry. As the industry moved primarily from a mom-and-pop industry to a professionally managed business model," he says.
Dougherty says things have changed greatly in the industry when it comes to how companies track various metrics in their businesses.
"I think about where we were in 2010, our metrics were annual financial statements," he says. "Things have gotten a lot more sophisticated. We track a whole bunch of metrics to manage the business today. You have to be a lot more efficient in managing your assets and  financing your business. Since 2010, to get growth like we've had, that's been a challenge – finance, marketing, all these things require a lot of attention and deliberate strategy and forethought."
Dougherty says that to be able to compete against the large multi-national companies you have to be able to set your company apart from the competition.
"You have to take great lengths to differentiate yourself in the market. We emphasize 'The Cooper Difference,'" he says.
The Cooper Difference is an internal value system the company created in 2013 for all of its employees.
"In order to compete, you have to be able to articulate your values to the market. You can only do that if all your people buy in," Dougherty says.
Historic projects
Even when the company was a small player, Cooper Equipment Rentals was involved in some of the most high-profile projects in the GTA including the Distillery District, Toronto Pearson International Airport, the Royal Ontario Museum and many other major landmarks.
"One of my earliest memories, I would have been nine or ten years old at the time, and I was driving with my dad in a pickup truck to deliver a generator to the CN Tower project, which was just a big hole in the ground at the time," Darryl recalls. "I remember riding in the pickup truck and thinking, 'I'm driving into this hole surrounded by every type of equipment imaginable and thinking WOW this is amazing… probably one of my first tastes of the business."
Current goals

One of the company's major goals is to be Able to serve our customers in every major population centre across Canada.
"Currently we are the only fully Canadian owned and operated construction rental company operating from the Pacific to the Atlantic" Darryl says. "There's still some gaps in our footprint where we think we can be successful. Expansion could be in the form of cold starts or acquisitions."
Darryl also sees plenty of opportunities to expand the company's specialty divisions like Trench Safety, Climate Control, Pump & Power and Work Zone Safety.
"I think there's lots of room to expand those as well," he says.
Safety is another key area of focus for the company.
"We recently received COR Certification in B.C. and Alberta. We're currently working on Ontario and expect to have it before the end of this year," Darryl says. "Safety is an important goal. I want to make sure our employees go home safe every day. We have made this such a priority that the health and safety manager reports directly to me.
Another key initiative for the company has been a push towards stronger diversity and inclusion, making sure the company reflects the communities it serves.
The company is currently working with a diversity and inclusion advisor in this area.
"We'll be able to drive these action plans home in the next three to five years," Dougherty says.
Darryl adds that the industry needs to do a better job promoting itself as a viable career option to attract and retain talent.
"The rental industry has not done a great job of promoting rental as a career," he says. "Little kids aren't growing up thinking I want to be in the rental industry, and we need to change that narrative. We need to get that message out early and louder. Most people enter this industry almost by accident, through a friend or a referral. Not too many people start out with a career in the rental industry in mind."
Giving back

Doug and Darryl are both passionate about giving back to the communities they serve. The company supports a variety of local initiatives brought forth by branch managers across the country. It also regularly supports the George Hull Centre for Children and Families in Etobicoke, Movember, and Steps for Life.
"We feel Steps for Life and the George Hull Center are  really important organizations  to support –charities that don't get the media support or have the big budget support that some of the other ones have. We feel like we can make a big difference to them," Darryl says.
The company also offers support to the Canadian Association of Women in Construction (CAWIC). This year Cooper has partnered with CAWIC to provide six women across Canada with $1,000 bursaries to provide them with further education or on the job training.
Golden celebrations
In celebration of 50 years in the business, Cooper Equipment Rentals selected a variety of equipment and had them all painted gold. The equipment is being moved around to the company's various branches across Canada to raise money for noble causes.
"We're moving this equipment into each of our regions across Canada and sharing 50 per cent of the rental dollars raised from renting the machines with the Steps for Life charity and Movember," Darryl says.
On June 15, to recognize 50 years in business, there will be 50 food trucks set up in 50 rental branches across Canada.
"Every branch will have a food truck serving up lunches at open houses across the country. We also have monthly competitions where we're giving away a fantastic prize to our followers on social media. Every month it's a different selection of prizes. It culminates in September with four airline tickets to anywhere in Canada  – the same month the company was founded in 1972," Darryl says. "Also if people post pictures of our gold equipment mentioning #spotcoopergold and tag us, they'll also win prizes. There's lots of opportunities to win cool Cooper swag."
To follow Cooper Equipment Rentals on Instagram, visit @cooperequipmentrentals.
---
Print this page